UBCO The Bike Everyone Should Have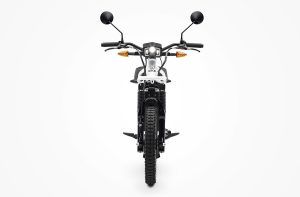 Ruggedized off-road mud-ready 2X2 Work Bike, and the versatile on- or off-road 2X2 Adventure Bike. They're both tougher than ever, with improved torque, power, and traction. All-terrain, all-utility, and all-performance.
TOUGH: With improved and strengthened the frame, wheels, and componentry to make the bikes even more robust and able to handle all terrain.
EFFORTLESS: Lightweight with no clutch, a low centre of gravity, and a step-through frame, the 2X2 is easy to ride. Multi-stage regen and adjustable suspension deliver responsive control.
QUIET: Near silent motors let you enjoy the sounds around you without adding any noise pollution of your own. No gas. No emissions. No noise.
VERSATILE: The strong alloy frame has attachment points to secure and carry your gear. The 2X2 is so lightweight, you can hitch it on the back of your car for easy transport.
SAFE: No Exhaust. No Heat. No Fuel. No Chain. Inherently safe and packed with security features, whether in the town or country you won't need to worry about your 2X2.
INTELLIGENT: Take control with real-time performance data for your bike and customise your riding experience via the Bluetooth connected UBCO App.
Check out our Shop Now
The 2×2 was initially built to help out on the farm, but really, the possibilities are endless. The 2×2 now has many different applications — below are just a few of the ways UBCO is being used:
PEST CONTROL

CONSERVATION

ADVENTURE

AGRICULTURE

CONSERVATION

TOURISM

HUNTING

AGRICULTURE

HORTICULTURE

RECREATION

CONSERVATION
Check out our Shop Now
UBCO Background
UBCO was founded on the idea of a rugged Utility Electric Vehicle (UEV) that would transform the way people ride, work and play. UBCO has rapidly developed into a digitally connected UEV platform. Leveraging the benefits of modern electric drive and battery technology, UBCO's platform includes on and off-road transport (2×2), portable power, accessories, and subscription software.
Whether you are taking inspirational journeys, exploring our planet, saving our parks, delivering goods, working smarter and safer; UBCO wants to 'power your purpose'.
Why UBCO
UBCO came to life in 2014 in New Zealand when 2 people saw a gap in the market for a new category of product. A 2-wheel drive electric, lightweight, utility vehicle. The first prototype was assembled that would ultimately become the 2×2. This raw first prototype weighed in at 40kgs and created a real impression at The National Agricultural Fieldays – the largest agricultural tradeshow in the southern hemisphere.
UBCO
Ambassadors:
UBCO is popular and we like to share our popularity. Some of our ambassadors include (these will all be links to their pages):
3Wise Men

Glen Riley

Owen Boynton

Foster Huntington

Aran Eversman

Jamie Gallant

John Gertsakis

Tom Herzog

Scott Linden

The Goldbergs

Mamaku Point Trust
Check out our Shop Now