5 GREAT SPOTS TO START YOUR CAR CAMPING ADVENTURES
So the summer holidays are nearly over. There's been some actual sunshine and days warm enough to warrant a beach trip. The good news is you don't have to try to bottle those beach holiday feelings and live off the memory if you get yourself a car camping air mattress.
Car camping is taking Australia by storm – and we don't mean just sleeping in your car, this is the first class of sleeping in your car. It's convenient, efficient and cosy. Especially with the right mattress.
Luno has got you covered. Their Air-Mattress 2.0 is fully customisable to your vehicle, it's double sided so you can get away solo or with a second, and you and said companion can adjust the firmness of the mattress on each side for personalised comfort.
The privacy curtain blocks out the sun and transforms your car into the ultimate sleeping space. The car window screens provide added privacy while sleeping in the comfort of your vehicle as well as air flow and protection from bugs.
Off-Grid has all the car-camping gear you need to transform your commuter into a camper and are proud to be the exclusive distributors for Luno.
Every weekend has the potential for adventure.
Honeymoon Bay 
Honeymoon Bay Camping ground is located in the Beecroft Weapons Range at Jervis Bay, NSW, approximately 10 kilometres from the edge of Currarong along the Point Perpendicular Lighthouse Road. It is only open during holidays and weekends due to Defense exercises during the week, and due to its popularity, camping is fully booked during the summer holiday period via a ballot system held each August. Keep an eye on the Beecroft Weapons Range and Peninsula Facebook page for updates or closures.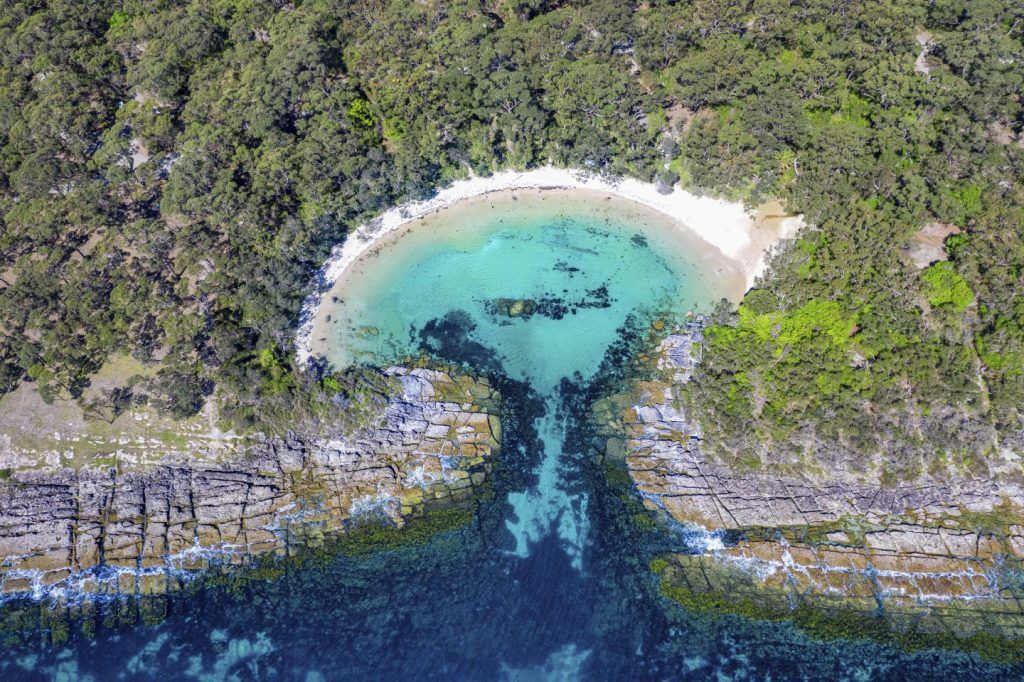 Location: Corner Lighthouse Road & Currarong Road
Booking: first come, first serve (get in early)
Camping type: Unpowered — Tent, camping beside, car camper trailer site 
Facilities: showers, portable toilets (byo toilet paper), byo water
Pets: no
Pebbly Beach
Spend the day swimming, fishing, surfing, bird watching, kangaroo petting and your night sharing stories with the neighbours next site over and star gazing. Pebbly Beach is the perfect base to explore Murramarang National Park and the various walking tracks that connect to the campsite.
Location: 
Murramarang National Park, NSW
Booking:
 booking required through 
National Parks
, or call 1300 072 757.
Camping type:
 Tent, Camper trailer site, Camping beside vehicle 
Ganguddy – Dunns Swamp Campground 
 (technically not the beach, but waterside still)
Set along the Cudgegong river in Wollemi National Park, this tranquil waterway was created as a result of the Kandos Weir construction in the late 1920s to supply water to Kandos cement works. It's the perfect location for fishing, kayaking and swimming and comes with a network of relaxed walking tracks. Keep an eye out for elusive platypus and long-necked turtles!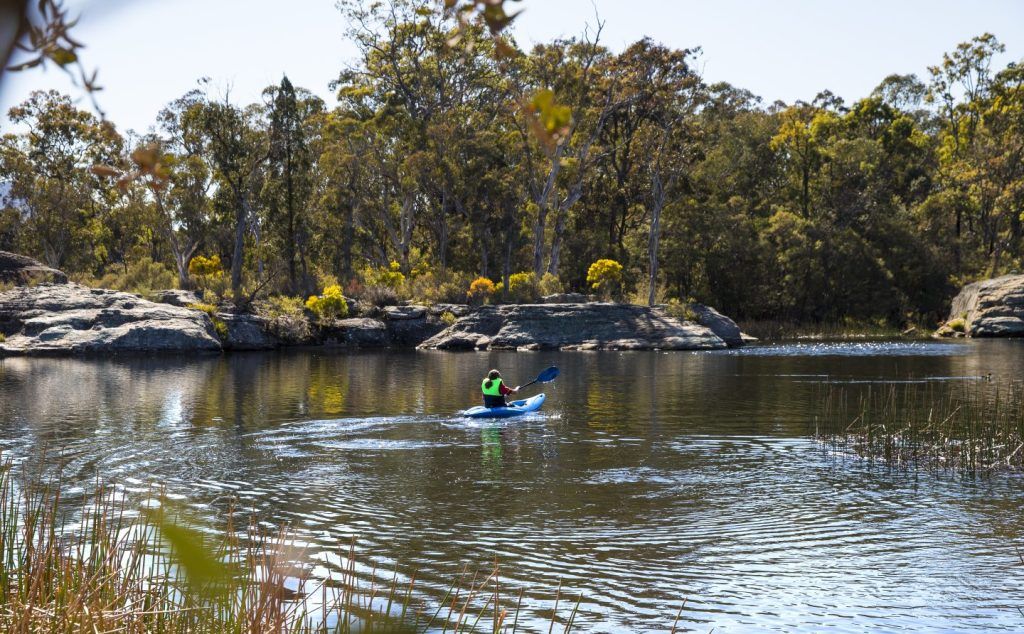 Location: Wollemi National Park, NSW
Booking: booking required through National Parks, or call 1300 072 757
Camping type: Tent, Camper trailer site, Caravan site, Camping beside vehicle 
Facilities: Picnic tables, barbecue facilities, carpark, toilets
Pets: no
Bonnie Vale Campground
Located between Bundeena and Maianbar at the north end of Royal National Park, just over an hour from Sydney, boasting a fresh refurb with powered and unpowered sites, hot showers, flushable toilets and drinking water – this campground is the best of the best. It's the perfect location for family camping trips, groups and educational visits. Grab a kayak or a lilo and set the kids afloat in the Cabbage Tree Basin.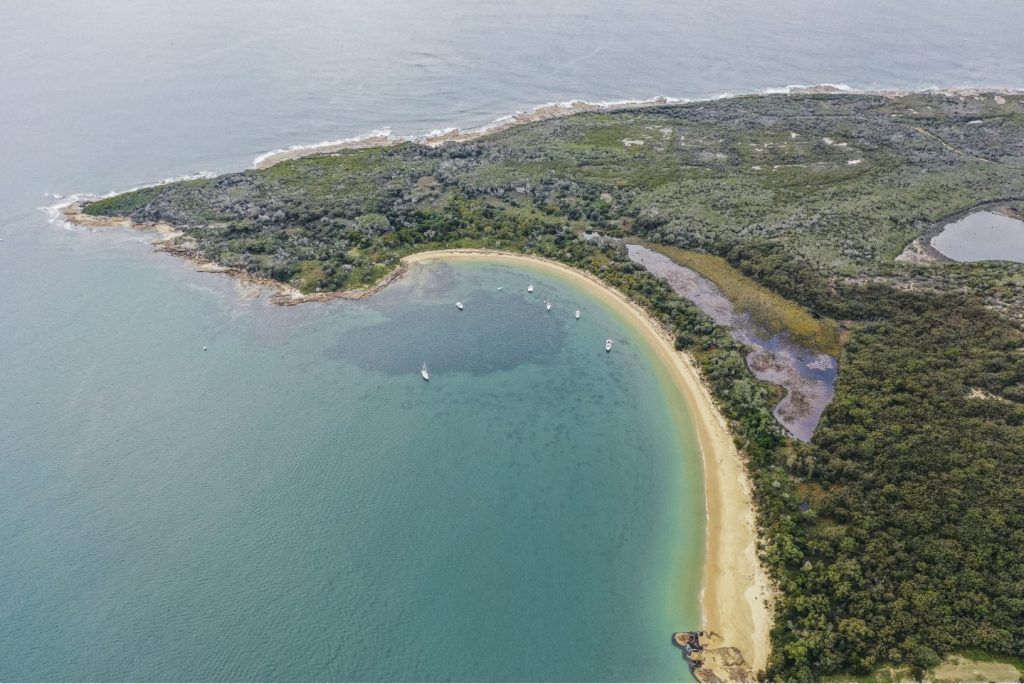 Location: 2 Sea Breeze Lane, Bonnie Vale, NSW, 2232 – in Royal National Park
Booking: booking required through National Parks, or call 1300 072 757
Camping type: Tent, Camper trailer site, Caravan site, Camping beside vehicle
Facilities: Picnic tables, barbecue facilities, drinking water, showers, toilets
Pets: no
Woody Head Campground
Located under 10 minutes from beautiful Iluka (a known Hemsworth sighting location), Woody Head Campground is perfect for families and waterbabies. There's a boat ramp (if that's not incentive enough to befriend the neighbours I don't know what is), a sheltered beach for swimming and fishing, rock platforms to explore, rainforests to amble and shallow reefs to explore. You'll never run out of things to do or not do if that's your preference!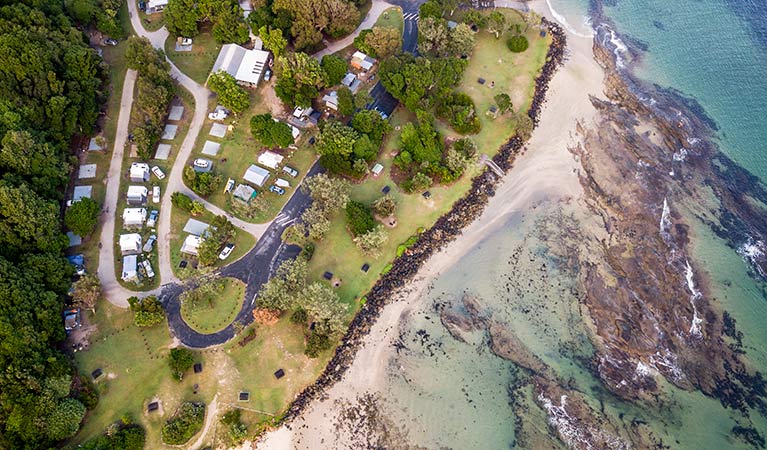 Location: 92 Woody Head Road, Woody Head, NSW, 2466 – in Bundjalung National Park
Booking: booking required through National Parks, or call 1300 072 757
Camping type: Tent, Camper trailer site, Caravan site, Camping beside vehicle
Facilities: Picnic tables, barbecue facilities, boat ramp, carpark, drinking water, public phone, showers ($1 for 4mins), toilets
Pets: no